Medical Cannabis Awareness Week 2022: Women's Health
November 2, 2022 @ 6:00 pm

-

7:30 pm

GMT
This panel will be exploring how cannabis can be utilised as a tool in women's health. #MCAW2022
Medical Cannabis and Women's Health – This panel will be exploring how cannabis can be utilised as a tool in women's health to address conditions like endometriosis, menopause as well as the associated anxiety, pain and sleep issues that these might cause. We will hear a patient's experience using medical cannabis to treat her endometriosis.
Date: Wednesday 2nd November
Time: 6:00 -7:30pm
Host:
– Mary Biles, Journalist & Author
Panel:
– Carola Perez: President of the Observatorio Español de Cannabis Medicinal and founder of the patient association Dosemociones.
– Dr. Sally Ghazaleh: Pain Consultant at Integro
– Monique Ellis: Co-Founder & CEO of Chilam
– Claire Bywalec: Endometriosis patient
– Dr. Dani Gordon: GP, Integrative Medicine & Cannabis Medicine Consultant and Vice-Chair of the UK MCCS
4 years on from the legalisation of medical cannabis in the UK, we continue to see the same barriers persisting. #MCAW2022 aims to highlight what the most pressing issues and opportunities are and how we overcome them in order to best serve patients
With prior events involving over 50 speakers, 1500 live attendees and 60,000 people reached, PLEA is once again collaborating with patients, doctors, colleagues and organisations from across the sector.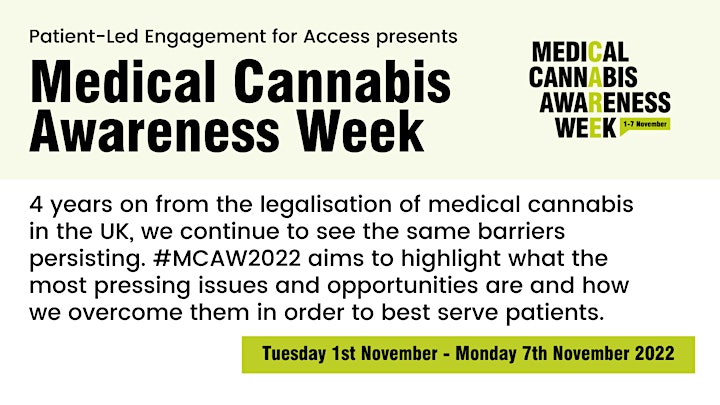 All sessions are free to attend and will be available to watch back at a later date. Please register individually for each session you wish to attend:
Tuesday 1st November, 6:00 – 7:30pm: Medical Cannabis Research on Paediatric Epilepsy Panel
Wednesday 2nd November, 6:00 – 7:30pm: Women's Health Panel
Thursday 3rd November, 6:00 – 7:30pm: Barriers to Access
Friday 4th November, 10:30am- 18:30pm: UK Patient Conference
Saturday 5th November, 12:00 – 1:30pm: The Future of Cannabis Cultivation
Sunday 6th November, 6:00 – 7:30pm: Industry Insights
Monday 7th November, 6:00 – 7:30pm: Condition Conversations
For more information on Medical Cannabis Awareness Week 2022, visit: pleacommunity.org.uk
To watch back MCAW2021 events, click here
To become a PLEA Community Member, visit: pleacommunity.org.uk/community-membership
#MCAW2022 🌱